La signification du Mardi Gras

Le mardi gras ouvre la période pascale qui est un moment essentiel dans le calendrier chrétien,
durant lequel la gaieté et la tristesse alternent, jusqu'à la fête de Pâques elle-même,
jour de joie et d'espérance.


Pour préparer Pâques et se purifier,
les Chrétiens pratiquent le carême,
période de jeûne et d'austérité
qui dure 40 jours
en souvenir de la retraite de Jésus dans le désert.

Par opposition à cette austérité,
un jour d'abondance et de joie
précède le début du carême : le mardi gras.
Ce jour est appelé " gras " car traditionnellement l'huile et le beurre sont des ingrédients liés aux festins.

A mardi gras, les excès sont permis,
aussi bien dans la consommation de nourriture
(les crêpes)
que dans l'apparence vestimentaire
(le carnaval).

On dit que la tradition de faire des crêpes
à mardi gras vient de la nécessité
d'épuiser les réserves d'oeufs et de beurre
qui ne seront pas utilisées durant le carême.

Antecedentes del carnaval de Santa Cruz de Tenerife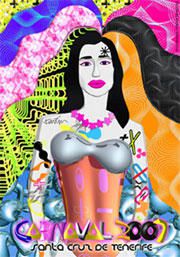 Fueron los conquistadores de las Islas quienes,
llegados a Tenerife a mediados del s.XV,
trajeron tradiciones ligadas con las fiestas del Carnaval,
que se celebraban también en todos los dominios de la Corona.

Sin embargo, consta que las familias pudientes de la isla,
según testimonio de escritores y viajeros de la época,
acostumbraban en el s.XVIII,
a celebrar bailes y fiestas a los que invitaban a viajeros distinguidos.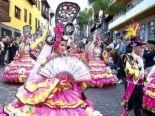 La plebe también celebraba los carnavales,
aunque las autoridades civiles y eclesiásticas
no aprobaban estas diversiones,
por lo que se prohibían los bailes
y bromas de las máscaras en las vías públicas.

Los antecedentes de las máscaras del Carnaval
eran las denominadas tapadas de Santa Cruz,
quienes iban a la fiesta de la Calle del Pilar con sus rostros cubiertos.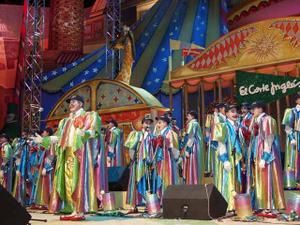 Tras la caída de la Segunda República
y el comienzo de la Guerra Civil española (1936-1939),
se veta el Carnaval hasta la década de los setenta.
A partir de 1945, los tinerfeños comienzan a celebrar el Carnaval
de forma clandestina en sus casas,
aunque tanto las autoridades civiles como el Clero
siguen prohibiendo su celebración.

En 1965 se acordó solicitar que las Fiestas de Invierno,
como antes se denominaba a los carnavales,
fuesen declaradas de interés turístico,
por lo que dos años más tarde, en 1967,
el Carnaval se convirtió en Fiesta de Interés Turístico Nacional.

Anteriormente, ya había habido intentos
de dar una mayor relevancia a la fiesta chicharrera por excelencia,
y se declaró que el miércoles de Carnaval se denominase Día del Turista.
El nombre de Fiestas de Invierno se mantuvo hasta 1976,
año en que, de nuevo, y ya sin las censuras que caracterizaron la dictadura franquista,
adoptaron la denominación de Carnaval.

No obstante, fue el 18 de enero de 1980
cuando el Carnaval de Santa Cruz de Tenerife alcanzó su más alto reconocimiento,
al ser declarado Fiesta de Interés Turístico Internacional por la Secretaría de Estado para el Turismo.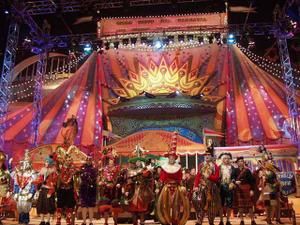 En la actualidad, los diferentes grupos del Carnaval han paseado el nombre de la isla de Tenerife,
tanto por la geografía española como por diversas partes del mundo,
convirtiéndose así en el segundo más popular y conocido internacionalmente,
después de los que se celebran en Río de Janeiro (Brasil).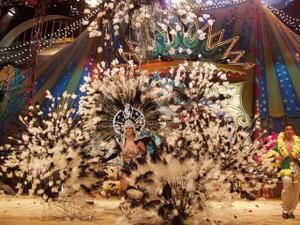 The first records of Carnival festivities in Rio de Janeiro date back to 1723. Immigrants from the Portuguese islands of Açores, Madeira and Cabo Verde introduced here the Entrudo.
The idea was basically getting everybody soaked wet. People would go out in the streets with buckets of water and limes, and everybody could be a potential victim. Even Emperors took part in the fun. There's a curious record of a woman being arrested in 1855 for throwing a lime at Dom Pedro I's escorts.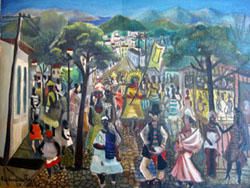 Zé Pereira was a contribution of a Portuguese shoemaker named José Nogueira de Azevedo, in the mid XIX century. On Carnival Mondays he would march in the streets with his friends playing drums, tambourines, pans, and whistles. Everybody was welcome to join the fun.

Grandes Sociedades or Great Societies was a more organized parade that debuted in 1855, with the presence of the Emperor himself. A group of eighty aristocrats in masks paraded with luxury costumes, music, and flowers. It was a big success. Democráticos, Fenianos and Tenentes do Diabo were the three most well-known groups.

Cordão Carnavalesco is a concept that got its start in 1870. There were characters like queens, kings, witches, peasants and dancers, and they performed according to the costumes they were wearing. There were also the Cordões de Velhos, where participants would wear huge papier-mâché masks and walk in an old man's gait.

Carnival in the XX Century
Ranchos Carnavalescos are a contribution of an immigrant from Bahia named Hilário Jovino da Silva. They started in 1872 as working class festivity. People would dress up in costumes and perform on the parade accompanied by an orchestra of strings, ganzás, flutes, and other instruments. They were more organized than the Cordões, and gained popularity around 1911.

With the sponsorship of brewery Hanseática, the Ranchos started organized competitions. They became one of the main attractions of Rio de Janeiro's Carnival, together with the Great Societies. The parade already included a first-wing (abre alas), an orchestra, a male and female choir, and a couple of mestre sala and porta bandeira.

The parades were halted during World War II and started again in 1947. By then the competition happened on Av. Rio Branco. The last competition of ranchos was in 1990, and the winner was a club named Decididos de Quintino.

RIO, VENECIA,TENERIFE, CADIZ, NICE........
Have you ever dressed up?
Vous êtes-vous une fois déguisés?
¿Te has disfrazado alguna vez?